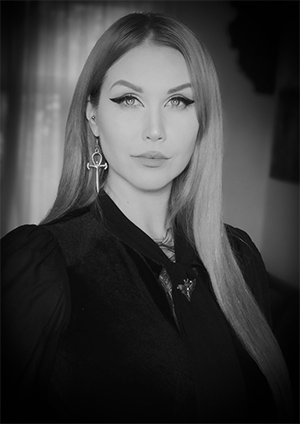 The creator of the Temple of Chrysalis
Luminary Blackthorn is the founder and creator of the Temple of Chrysalis, who found her spark to build the Chrysalis Path after surviving her own depression and trauma backgrounds, by combining her magical practice with therapy and self-help.
Her presence tends to be a catalyst for change, and she is known as a "Prefulgé" among Chrysalids. However, behind the public mask, there's a relatively down-to-earth neurodivergent person who loves cockatiels and game development, and flavors her sense of humor with self-irony.
Her backgrounds are in traditional witchcraft, Chaos Magic, Dragon Rouge, Finnish Neopaganism, urban shamanism, and many other forms of witchcraft. She is also is an expert in community development and management, a professional performer and group leader, who publishes articles and videos about empowering topics and visits different events as a speaker.
Blackthorn highlights that her own spiritual growth is a continuous learning process, and she is not trying to replace professional help: Luminary's role is simply to offer support, inspiration, encouragement, guidance, and an alternative path to those who wish to receive it.
Luminary Blackthorn quotes:
"I really wouldn't like to witchplain to you, but if you have done your homework properly, you should know exactly why me using my Venus energy to lure the nocturnal moths towards the light is part of my witchcraft. If you don't get it, then perhaps it is time to return back to your studies."
"The more negatively you think, the worse you will feel. Oh yes, reality shaping also works against us. The Universe can't tell the difference whether your magic is good or bad – it simply delivers. If you create a mindset of how everyone else sucks, and you are always mistreated victim, and there's nothing good about anything – then, this shall be your reality. Then this is exactly how it is for you."
"This is a place where you can learn our magic. Well, we call it the reality-shaping – you can call it whatever the fuck you want."
"Any possible hater that would have threatened the Temple some nights ago – I thank him for his kind gift of energy! I shall feast upon it, devour it and use it as a construction material." 
"I need to speak more wise words about moth butts. People obviously like moth butts."
"Someone's gonna get upset and suck a watermelon up to their a**. Now I said a**. Boohoo. Pu*sy and pu*sy and weewee and weewee and pu*sy and weewee. And happy things like that!" (After someone got upset about Luminary's sex magic article.)
"Thank you for your feedback. But my creations are my creations and they are not created to please your insecurities."
"I can be a cold. But not that cold that I wouldn't be able to say something kind, even if there was a conflict going on."