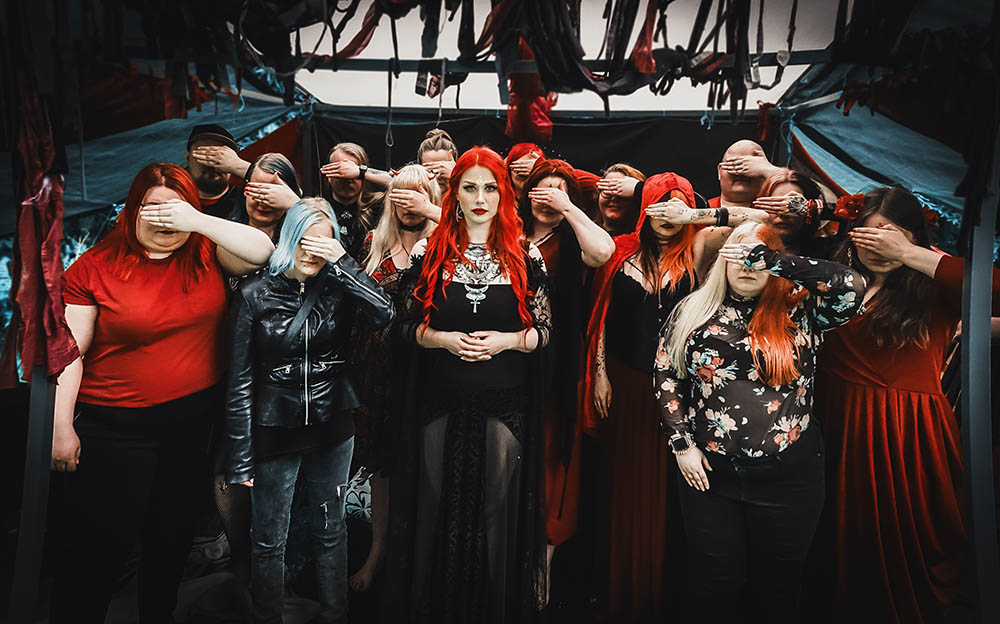 How to apply to Temple of Chrysalis?
The Temple of Chrysalis is an initiatory order. Anyone can be a Chrysalid just by identifying as one, but that alone is not enough to be a full member of the Temple. A Chrysalid is like a hangaround of a motorcycle club: much appreciated, but not yet with all the privileges or the full support of the family.
The inner circle of the Temple of Chrysalis is a non-commercial community that helps its members to shine as brightly as brightly as possible and find their ideal self. The insider nature of the Temple makes it important that any new aspiring members do not compromise the wellbeing of existing members or the structure of the Temple. This means the new members need to understand what they are joining. In order to provide the information and vet the members, and to make sure that the esoteric knowledge is only gifted to those worthy of it, the Temple can be joined only through initiation. The initiation process starts with the application, followed by the Pre-Telea stage and atrial. The trial (hopefully) leads to the initiation into the Temple, after the applicant has proven their worth. Through the initiation, the applicant is free to start their new life as a Telea Chrysalid inside the Temple.
Worthy of receiving it
Terminology:
Telea – An initiated and official member of Naos tis Chrysallis.
Neo-Telea – A new-born initiated Chrysalid! A fresh member of the Temple.
Pre-Telea – A Chrysalid who has sent Their application for initiation and is going through the evaluation period.
Chrysalid – A person who identifies as a Chrysalid. A follower of the Chrysalis path. Every Chrysalid that there is!
Pre-Telea Council – A group of Teleas who take care of the Pre-Teleas' trial process.
Contact the Pre-Telea Council:
trial@templeofchrysalis.com
Pre-Telea council will conduct most, if not all, communication about the Trial in English. Please type your messages in English.
Be aware that the process is not impartial, objective nor neutral. It is biased and partisan. Yes. We are even transparent about that. How you have treated the Temple, its members and especially Pantheon will have an effect on whether you are accepted or not. We want to build a happy place. Not a place with trolls and challengers who bring bad vibes.
Initiation process timeline
Equal to prospect.

- First interview
- First-year task
Equal to probationary or an acolyte.

- Second interview
- Second-year task
- Recommendation
An interview with the whole Pantheon, and meeting the Luminary.
To scare you away from this absolutely ludicrous decision of joining the Temple, we would like to highlight a few more things:
To the Teleas, the Temple events are usually free or they come with a discount. Due to this, we expect every Telea to do their part for the good of the Temple. If your health says "no", you need to say it – no need to sacrifice your health. However, we hope that you are not going to skip some of the more important gatherings just because of "meh, I'll skip it, I'm a bit tired". Everyone tends to be tired in this world, but remember your own initiation day. If people had skipped it becuase "they just don't feel like it" it would have been quite a dick move from them. We are quite sure that when you have months to prepare, you can make it so that you will have the energy needed to participate.
During the trial period the Pre-telea must prove their worth. Do not assume that you can just drop us the application and then slurp your milkshake and watch Netflix the next two years.

Every Telea means financial losses to the Temple, on estimated average >500€ per first year per Telea. Clarification (Added 8/2021) This number includes the initiation gifts, arrangements, free access to our online Academy, discounts or free accesses to events that would normally demand a ticket. These losses are suffered by the Luminary and her company alone. Nobody else. The community DOES NOT pay for your membership. The Temple of Chrysalis membership does NOT cost. And the membership to the Temple does NOT bring money to anyone. We do not ask for your money. This is not that kind of a group.
Because of this we expect your approach to be more about what it is that YOU can offer us – not only what the Temple will give to you.

The hierarchy of the Temple is very human and we aim to use it the most ethical way possible. But, it still is a hierarchy. If you have challenges with authorities or you cannot deal with direct feedback after you have misbehaved, you should carefully consider if you have what it takes to join. There are moments when opposition can be great and brings good things. But then there are moments when the small terrier is smarter if it stops showing its tiny teeth to a Big Dog. Even the most gentle Big Dog has its limits if the smaller dog keeps constantly biting its legs and pissing in its food bowl.

If a Telea acts in a foolish manner, there will be feedback and it might be direct. We are a very warm-hearted group, but we have a low tolerance for nonsense-type of misbehavior or brattiness. Giving critique is perfectly fine, but malicious sarcasm, passive-aggressive challenging, sulking and pouting and useless self-victimisation are things that lower the Telea's worth. We are all human and we can go through conflicts, but seeing this kind of behavior repeatedly will slow down the initiation process of a Pre-Telea.

The HQ of the Temple is located in the capital region of Finland. That means that the events are mostly held in Southern Finland. Events are where the Temple is. If you cannot come to the Temple, figure out a way to bring the Temple to you. Contact us, ask us and offer us your help. And be ready to realise that sometimes it is easier that one person travels 200 km than that 25 people do the same trip. Be ready to do your part, and do not just wait for everything to be handed on a silver platter.

Please note that the application may be abandoned. Reasons for this could be for example but not limited to:
– We don't know anything about you, and the application was not descriptive enough
– You come across as mentally unstable
– You are in close relationship with someone we consider as a risk factor, such as a member who left in bad terms
– You present hostile or aggressive behavior
– We feel our paths are not a match and that we are not what you are looking for